Culture & Gastronomy Published on 19/09/2022
Is it really already vacation time? Children and their parents go through the same ritual every six to eight weeks. Having so many vacations is great, but what is the best way to keep our adorable little ones entertained?
A great deal of inspiration and discovery awaits you in the Pays de Gex-Monts Jura! These are our favorite plans for spring vacation!
How about nature walks?
Here are some suggestions just for you.
Visit the Marais de l'Etournel in Pougny on the south side of the Pays de Gex, where birds stop sometimes. It is even equipped with an observatory so as not to disturb them. There are ponds along this preserved natural space that provide a soothing and restful environment. 
Can you imagine taking a walk along the plain with a spectacular view of the Mont Blanc? Well, here are two suggestions: the Mont Mourex in Grilly (2 hours) and the chapel of Riantmont in Vesancy (40 minutes round trip from the village). With the orientation tables, your children will learn about geography without realizing it!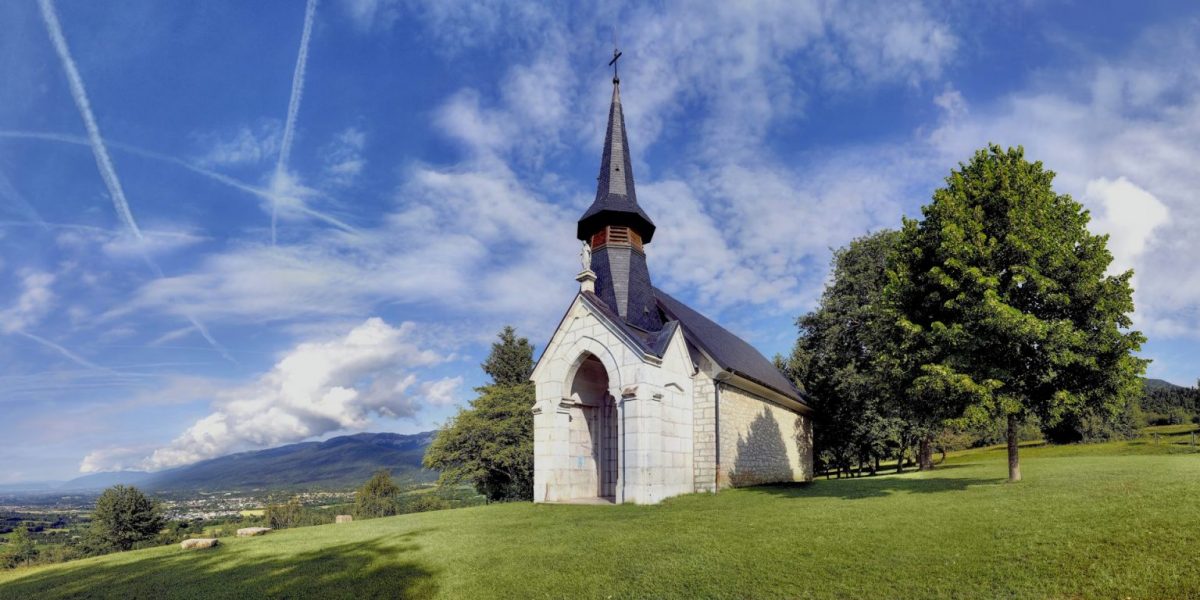 Some will say that we only talk about Mont Blanc (it's not our fault if we have one of the most beautiful panoramas in Europe 😊), so here is a walk that offers a beautiful view of the Jura. Le Creux de l'Envers is a 2h30 hike accessible from the top of Gex. There are many different landscapes to explore, such as forest paths, undergrowth, waterfalls, all within a nature reserve (please follow all regulations). 
Families can also enjoy family walks in several towns and villages like Ferney-Voltaire (allée de la tire), Challex (corbière route), Ornex (voie verte), Mijoux (arts corridor), Prévessin-Moëns (courtyard park, promenade de la Manchette), Saint-Genis-Pouilly (Berges du Lion), Thoiry (thematic walks), and others. 
A bike lover's paradise
For cyclists, the Big Bang Passport brings you to the heart of CERN's experiments on a 54-km route. You can solve riddles with your family on the circuit's 10 platforms. Don't want to do the whole loop? It's possible! Loops of only a few kilometers will appear on the map. Keep your ID handy since you may have to cross the border.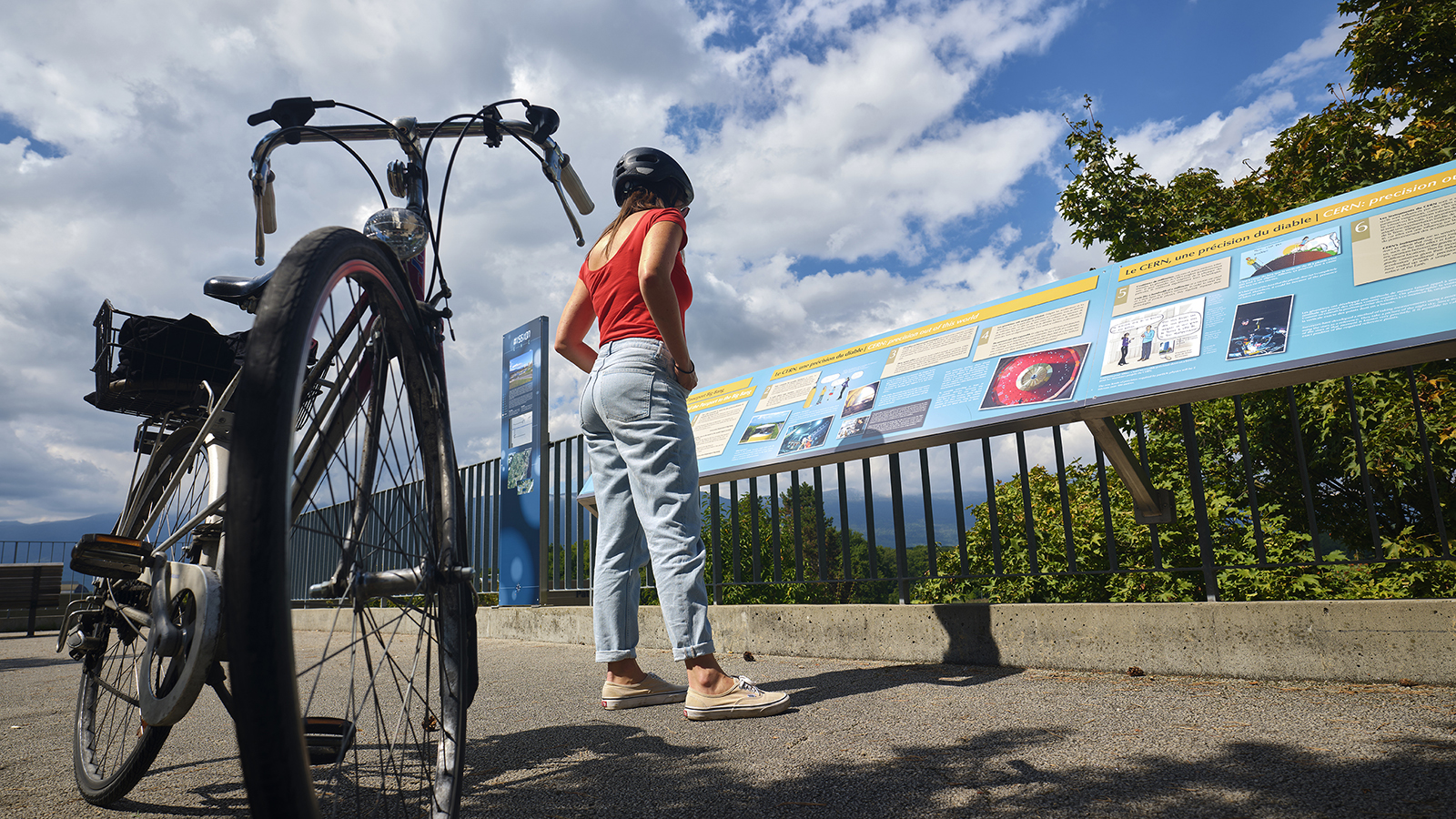 A network of greenways is developing in the Pays de Gex! While they are not yet connected, they allow you to walk safely. Try the Gex-Grilly-Divonne greenway, which starts not far from the old train station (now a restaurant), on the old redeveloped railroad line. This takes you to the spa town of Divonne-les-Bains. At noon or in the afternoon, we recommend stopping at the restaurant "Les Bergers" for cheese specialties. 
How about fishing at the Cessy pond? In addition to the bucolic stroll around the pond, you will be able to tease the fish! Just buy your fishing permit (10 or 20 €) at the Tourist Office (Gex tourist office), take your rod, and enjoy a nice day at the lake.
The Pays de Gex-Monts Jura destination has the advantage of offering a wide variety of pleasures. It's time to explore the heritage after a little tour in the green.
For those who love gastronomy
Let's begin with the gastronomic heritage. We do not need to tell you about the local jewel: the Bleu de Gex, this blue-veined cheese produced in Chézery-Forens, which we enjoy with a slice of bread or in a delicious gexiflette! Many small producers are located in the Pays de Gex and offer a wide variety of local products: milk, yoghurts, butter, goat cheese, organic beers, organic wines, oil, flour, liqueurs, chocolates, jams, meat vegetables… Make 100% Gessian meals for yourself and your family! Didn't you get dessert? The traditional papette is made from flan on a brioche pastry and is a true treat. Find out where the best ones are at the Tourist Office 😊
Heritage enthusiasts
You've landed at the famous home of the Enlightenment philosopher! A full restoration of Voltaire's castle in Ferney was completed in 2018, where he lived for nearly 20 years. You can choose between a self-guided or guided tour. Your trip to the 18th century won't disappoint you! By downloading the discovery rally Ferney-Voltaire with Plumette prepared by the Tourist Office, you can also discover the town shaped by the Patriarch between 1758 and 1778. Other rallies offer a chance to explore the Pays de Gex's towns and villages.
The best way to end a vacation is with a good movie. It goes without saying that the Pays de Gex has several cinemas.
Last but not least, one suggestion? Check out the Tourist Office's agenda, it lists all the events in Pays de Gex!