Family Published on 23/05/2022
The Gex region offers many rivers and watering holes suitable for fishing. Amongst them, there is a quiet, wooded place, accessible to all: the Cessy pond.
A bit of history…
In 1985, this private pond was created in place of a marsh. Then, in 1991, began stocking it with mainly white fish (roach, carp, tench) as well as carnivorous fish (pike). The commune did not authorise fishing until 1995, and the APEC association (Amicale des Pêcheurs de l'Etang de Cessy) was created to manage it. The status of fishpond for tourism was obtained in 2007.
Let's go, shall we?
With your picnic in the bag, head for the Gex tourist agency to get your ticket to pesca-nirvana: the fishing permit allowing you to fish in the pond! And here you are, ready to fish!
You may choose between two fishing techniques: fishing with a shot which requires dexterity or fishing with a fly which demands grace and elegance! It is your choice! But remember that the choice of the fly varies according to the place, the light… in order to have a fly the most adapted to the situation. Once hooked on the line, comes the casting, all in lightness and delicacy.
Now that you have the proper equipment, you just need to prepare the hooks and bait. It may not be to everyone's liking, but you have to go through this stage if you want to tease the fish, as they say.
The line pulls…. a catch! Yeah! Many questions come to mind, what species is it, how big is it, how heavy is it? The species you will find in the pond are for example pike, carp or perch.
The pond also hosts mallards, coots, dragonflies, damselflies, etc. The diversity of flora, including yellow irises, water lilies, reeds, alder, willows, etc., makes it an especially cool place to be. The spring and autumn sunny days give the place a beauty which could make painters or photographers shudder.
Having respected our charter of the good fisherman, we are now going back proud of our success and keen to try again.
The charter of the good fisherman:
I respect my environment (fauna, flora) as well as private properties.
I respect the captured fish and take care of them.
I respect the fishing regulations (dates, times, quotas, measures, etc.) and I carry my fishing permit.
I am courteous with other fishermen, users, and fish guards.
I share my know-how and my knowledge.
The Cessy pond is also an ideal place to go for a walk, to exercise at the fitness trail, to enjoy the petanque court, and to enjoy barbecues for good picnics. There is something for everyone!
The Cessy pond is made up of small simple pleasures to be shared or experienced alone!
Why don't you leave us with a little anecdote about this place we love so much 😉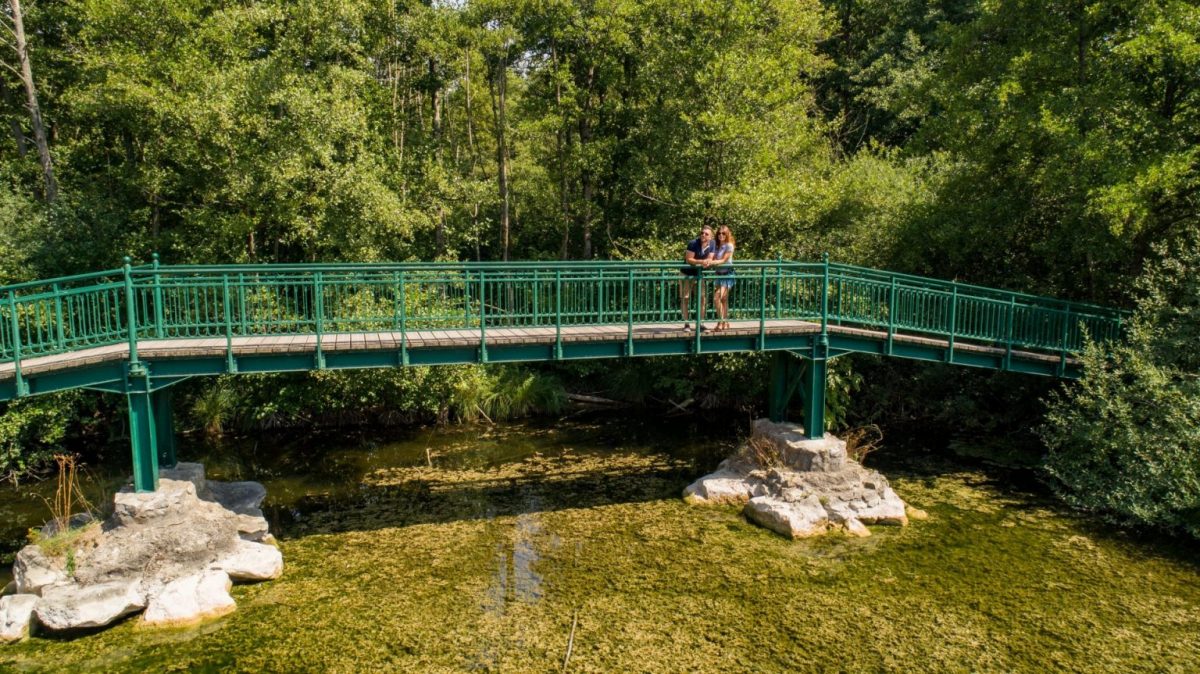 Did you know that boulders are present at the pond?
Rock masses collapse from glaciers during the erosion of mountain ranges. Upon its retreat, elements of rock will disappear and mix with sediments to form soils. The largest blocks are called erratic blocks and can be found underground or remain visible on the surface. In Cessy, the erratic boulders are the result of the retreat of the Rhone glacier about 15,000 years ago.
You are now ready to discover the Cessy pond! We trust you will enjoy it as much as we do. No doubt about it. We already know that the time will fly by, many pictures will be taken, laughter will be heard and that leaving will be difficult.
See you soon and maybe we'll see you there!